my superbowl line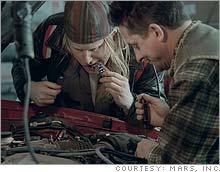 i watched the superbowl with a few friends on sunday at michael & kates chateau and i believe i had the best line of the day..
after the end of the game and the announcers was once again reminding us that tony dungy was the first black coach to win a superbowl. i asked my friends: "now that we seen a black coach win a superbowl, do you think we will ever see a brown head coach win a superbowl?"
after a few PC looks, a couple giggles broke out after those browns fans got the punchline..
i had another line about the 'snickers kiss' the two coaches shared after the game but i'll save that for later..